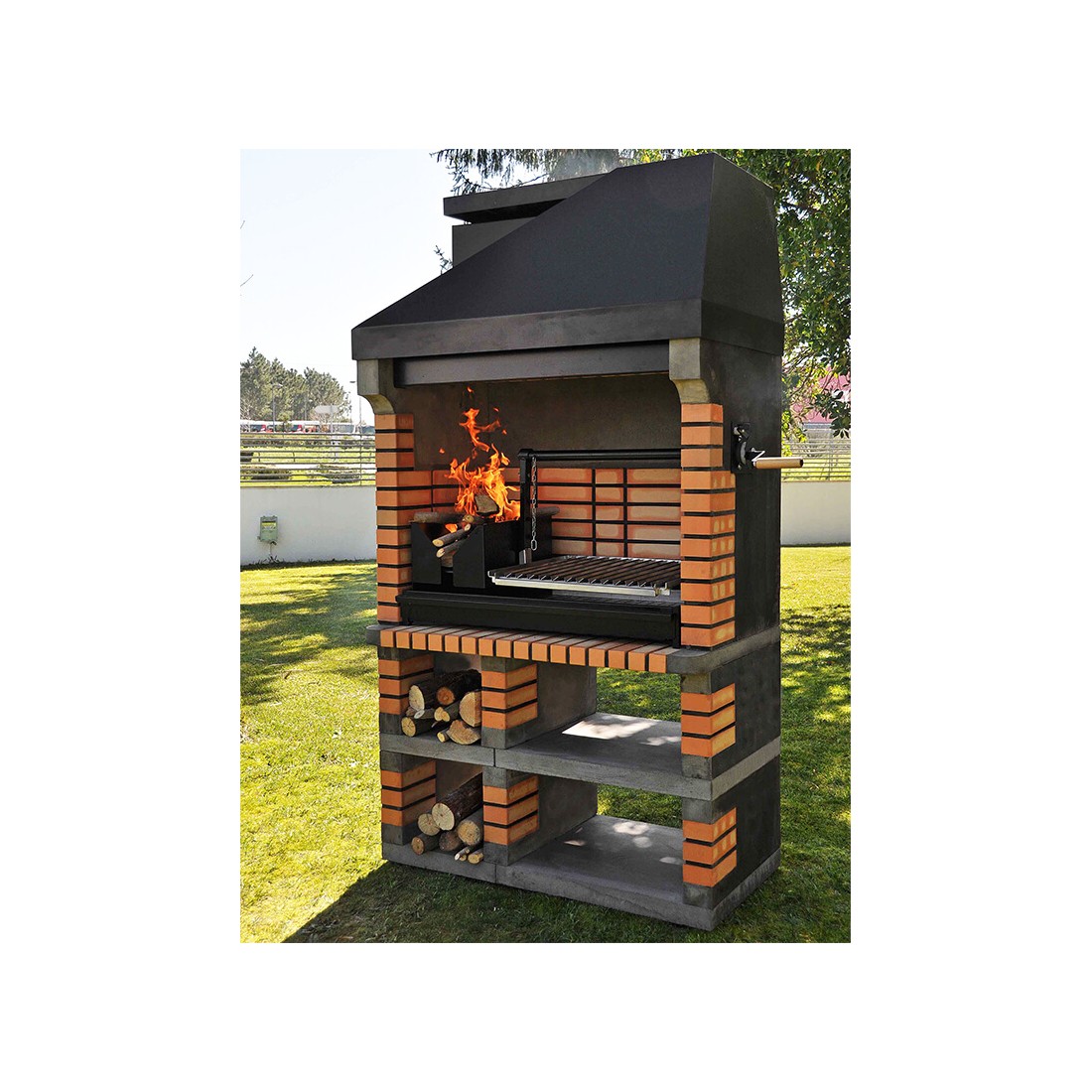  
San Francisco Charcoal & Firewood Barbecue
Currently unavailable to order
XL Barbecue with chimney
Complete with a lateral wood-burning brazier
Extra-large cooking area
Constructed from reinforced refractory concrete and refractory brick
Supplied with stainless steel fire grate with an ashtray and fat deposit
NEW Grill elevation through a crank system
Storage shelves - giving you plenty of space for utensils, fuel or accessories
Burns charcoal, briquettes, lumpwood, logs or firewood
Maintenance free and easy to clean
100% Secure Shopping

FREE UK Mainland Delivery

Hassle Free Returns

Price Match Promise

Online Payments Barclays & Paypal
The San Francisco Barbecue Grill is the Ultimate in Wood BBQ Grilling will provide an attractive garden feature that will last a lifetime. This amazing XL BBQ is supplied with a real brazier to produce wood embers, using hardwoods such as oak or beech you can create a real log fire as the embers drop through underneath they are spread under the cooking grill as required with poker provided. This ultimate experience that cannot be experienced with any other grill. Cooking over burning wood is the best ever! The grill has a fantastic elevation mechanism through a crank system using a chain to raise and lower the grill over the coals to help ensure your food is cooked to perfection. This is ideal for cooking all your favourite foods and then keeping them warm, should you need to. 
High-quality refractory concrete and refractory red brick - this very heat resistant material is also sturdy, robust and long-lasting
Storage shelves - cleverly designed giving you plenty of space for fuel, accessories or utensils
Grill elevation -  to adjust the cooking temperature of your food by moving it up or down to help ensure your food is cooked to perfection or to keeping food warm
Smoke-channelling flue - funnels the smoke up away from you and your guests giving you a pleasant atmosphere for entertaining
Self-assembly - the San Francisco Barbecue is supplied in component form, assembly instructions and silicone adhesive provided
This all-weather BBQ provides you with the perfect outdoor cooking, perfect for entertaining and once you have finished cooking the delicious food, it can then be used as a patio heater to take the chill of late evenings. Take your outdoor entertaining to a new level with this wonderful San Francisco Barbecue.
XL Barbecue with chimney
Complete with a lateral wood-burning brazier
Extra-large cooking area
Constructed from reinforced refractory concrete and refractory brick
Supplied with stainless steel fire grate with an ashtray and fat deposit
NEW Grill elevation through a crank system
Storage shelves - giving you plenty of space for utensils, fuel or accessories
Burns charcoal, briquettes, lumpwood, logs or firewood
Maintenance free and easy to clean
Currently unavailable to order

Regrettably due to unprecedented demand this item is currently out of stock
You might also like